The Complete Guide To Buying A Car At Auction
June 14th 2018
The used car market is always a great option for the prospective car buyer to save a lot of money. Used car dealerships and private-sellers are the obvious sources for used vehicles. Potential buyers may have worries about attending vehicle auctions for several reasons. This article aims to show that the potential benefits of purchasing vehicles at auctions significantly outweigh the associated risks. With the right tactics, there is no better avenue to get the best value for your money.
As much as the potential benefits of getting a car at an auction outweigh the risk, it's important to be aware the any risks, making the margin of error very slight. If you make the wrong decision at an auction, the loss may be irredeemable. This guide will walk you through all aspects of vehicle auctions, so you can increase your chances of leaving with a deal instead of a lemon.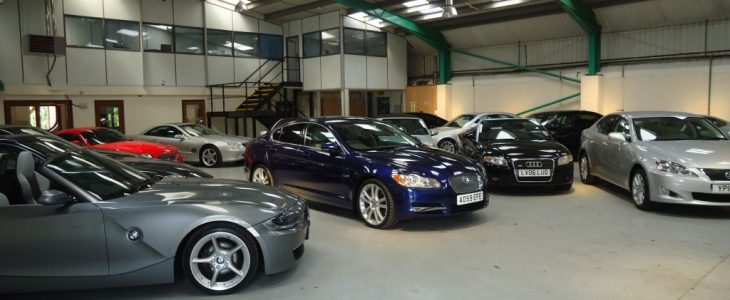 Why get your car at an auction?
The potential to save a lot of money is the main reason why people buy cars at auctions. When you buy a new or used car at a dealership, the business is making a large profit to cover running costs. At an auction, turnover is much larger with vehicles in good condition sold for as low as 30% of their retail market value. But good deals are not what auctions are all about. There are other reasons why you should consider getting a car at an auction. Here are some of them.
Simplicity: purchasing a vehicle at an auction is simple. Register, bid for a vehicle, make the payment, sign the paperwork and drive away. At any dealership, you simply can't walk away that easily. You would be tempted with offers for add-ons such as extended warranty and insurance.

Credentials: many people have an incorrect idea that buying a car at an auction means buying blindly. This is often not the case. At government auctions and registered auto auctions, you can purchase cars that have always maintained and serviced.

Variety: auction houses have a very high turnover so you can be guaranteed great variety on weekly basis. As new models come out, older models become increasingly difficult to get. But at auctions, you are treated to a wide variety of cars. You'd see the previous models and you'll get them at incredibly low prices.
2. What to do before buying a car at an auction
It's important to do your homework before an auction so you don't get burnt. You are relatively safe if it's a government auction, or company held auction. If it if a police, or public auction you should be aware of what you are about to purchase, as you may have no come back if the vehicle has problems. Here are some of the things you need to do before buying a vehicle at an auction
• Have a vehicle in mind
Going blind into an auction is rarely a good idea. Sellers usually provide an online directory where you can check the available cars. Check if the model you have in mind is available before attending the auction. If you do not have any vehicle in mind yet, check the available models and see if there's anything you like on offer. Check reviews about the car to be sure it's something you really want. You shouldn't walk into an auction with the hopes that you'll see something you like.
• Value the vehicle
One of the keys to coming out successful from an auction is knowing the maximum amount you can bid. And you can only set a reasonable amount as maximum if you know the market value of the car. Online resources such as Redbook.com could prove very useful for determining the current market value of a used car. You can get the average price of cars the same model. Typically, you would expect to get the car for an amount that is significantly less than the current market value, taking into account the kilometres and general condition.
• Confirm the vehicle's mileage
The total distance a vehicle has covered throughout its lifespan is a major determinant of its value. You should not buy a car from an auction if this information is not available. The mileage is an indication of how much the car has been used. This information is even more important than when the car was bought.
• Enquire about the service records
Although this information may not be readily available, it would be a plus if you can get accurate service records. Even if a car has high miles on its clock, proper maintenance and servicing would ensure the engine and other auto parts are kept in great condition. If the service records indicate a neglect, the value of the car should reduce as you may be spending on repairs shortly after acquiring it.
• Conduct a physical check
The opportunity to have a look at the car you are about to buy before bidding starts is one major advantage physical auctions hold over online auctions. In physical auctions, the vehicle information may be more limited than online auctions. While a car's problems may not be diagnosable with a physical check, at least you'll confirm the cars body parts are in good condition. Check the interior, the tyres, the engine, the bodywork, the electrical systems and just about every other part you can check.

3. What to expect when the auction starts
You will usually need to register and provide identification to the auction house before you are allowed to participate actively in the process. After registration, you may be given a bidder number, or a paddle with which you can bid, however, some auctioneers will not use this system and just request you raise your hand.
Physical auctions are quite fascinating. The theatrics could even make for a pleasant day out. But if you are around for business, you shouldn't let emotions get in the way of rationality. Save the temptation to enjoy the scenery and the adrenaline rush till after you've landed your prize vehicle. Different companies or individuals may have diverse ways of going about their car auctions. You may choose to make inquiries about the specific one you are attending prior to the date.
Typically the cars on auction are driven into the auction square one after the other. The car is parked where the crowd can take a good look but there isn't much opportunity for physical inspection anymore. At this point, the auctioneer describes the car to the crowd and invites bid. This is where things could get a bit tricky. By law, the description of the auctioneer supersedes what you may have seen or heard anywhere else. It doesn't matter how the car was described in the online catalogue, you should only listen to, and follow what the auctioneer says about the car. Some of the frequently used descriptive phrases are provided below:
• No major mechanical faults: vehicle's overall working condition should be fine. There should be no fault with the suspension, engine, gearbox, transmission etc.
• Sold as is: You should be very careful about this type of cars. The auctioneers are freeing themselves of any liability and would not be obliged to accept complaints about mechanical faults after the sale. Needless to say, these cars go for the lowest prices.
• Specified faults: Here, the auctioneer is aware that the car has some mechanical faults and they are willing to let you in on the faults. You should listen carefully as the list of faults is being read and see if the faults are what you can live with. If you discover any major fault outside the ones stated, the auctioneer should be responsible for the repairs.
Bids are usually increased in progressive units up to the point where nobody else is willing to raise the bar higher. Depending on the value of the car and how much people want it, the winning bid may go much higher than the starting bid. This is the more reason why you should have a maximum amount you want to bid in mind. If you don't, you may end up buying the car for a price that would be very similar to what you would pay on Carsales or Gumtree.
4. How to bid at the auction
Be prepared as the bidding process is fast-paced. There is usually a lot of cars to sell so you cannot blame auctioneers for their desire to get rid of a car as quickly as possible. For many auctions, there is a reserve price set already by the auctioneer. Any bid below this price would not be accepted. But once a reserve price is set, the auctioneer must sell the car if the bid is at or above the price.
During biddings, the auctioneer usually announces a successive increase in prices. You may be asked to raise your hand or bidding slip if you are willing to buy the car at that price. Once there is no more competition, the hammer comes down and the highest bidder goes over reserve, they go have purchased the vehicle. If there is anything you do not understand, ensure to ask before bidding as the fast-paced nature may confuse a first timer to auto auctions. It is advisable to witness about two or three car auctions before participating actively. Through this, you will become familiar with the bidding process and there'll be less danger of making mistakes.
5. What happens when you win the bid?
If you're able to land the car you had in mind at a very good price, you have every reason to be proud of yourself. But your work isn't done just yet. You'll need to make a deposit immediately after winning the bid. The deposit is usually 10% of the car's value but it may go as high as 20%, depending on the auction. Sometimes, a fixed amount is also set as the deposit. Thereafter, you'll have to sign some paperwork and make the complete payment. In addition to the value of the car, you may have to pay for a road worthy certificate and registration. This I why it is important to confirm the credentials and registration status of any car you would like to bid for.
6. What are the acceptable means of payments?
This depends on the auction house. Usually, cash, credit card (fees may apply), bank cheques, bank deposit or direct transfer are accepted. Some auction centres may also have finance available. Check in to know what's accepted and what is not.
7. Online versus Traditional auctions
Since the digital revolution is stamping its footprint on every aspect of our lives, we might as well brush the discussion of traditional versus online car auctions. Online car auctions are becoming much more popular and while they do not pose an immediate threat to traditional car auctions, they might as well be the future of the industry. Many people crave the convenience online auctions offer and the same growing trend can be observed in new car purchases. A major advantage of traditional auctions, however, is that you get to see what you want to buy. For big events, interested members of the public are invited to look at the cars about to be auctioned a day or two before the main event. This is not possible for an online auction. You can only rely on pictures and descriptions from the auction house. Furthermore, you can get the satisfaction of bidding, winning and walking away with your prize immediately at a traditional auction. This is obviously not possible with an online auction event.
On the part of sellers, traditional auctions are more expensive to organise when compared with online auctions. But there is the potential to make much more from traditional auctions. The excitement and competitive spirit of bidders can always play well into the hands of sellers. If two or more individuals get entangled in a bidding war, they may be tempted to make decisions that are far from rational.
Find out more Important Information About Buying At Auto Auctions