Impound Auto Auctions
March 31st 2019
Impounded Auto Auctions
Have you ever wondered what happens to those cars, bikes, boats, caravans and trucks that are impounded and never claimed by their owners? The government sells off such vehicles to the general public via auction. As a result, they clear up space for more impounded vehicles and generate some much-needed revenue. A win-win situation for both parties!
The Process
You can't go to an auction if you don't know about it. Hence, before the date of the auction, an advertisement is issued in the local newspaper or online so that interested parties can visit the stated location and inspect the available vehicles. The inspection day is usually held a week or so before the actual date of the auction, but also can be on the day of the auction. There are a few things to consider ahead of inspection day.
What to Expect?
Inspection Day
On inspection day you will be able to examine an entire vehicle. However, there are some rules and regulations you need to abide by that can limit the scope of your examination. For example, you might not be allowed to drive the vehicle or move it from its place. This is why bringing a certified mechanic to an auction can be a good idea. Many cars that are impounded after being abandoned will not have keys with them. You won't be able to start these cars to check the basics or determine the kms. In this case we advise you check the last service sticker or logbooks for a rough idea of how many kms are on the vehicle.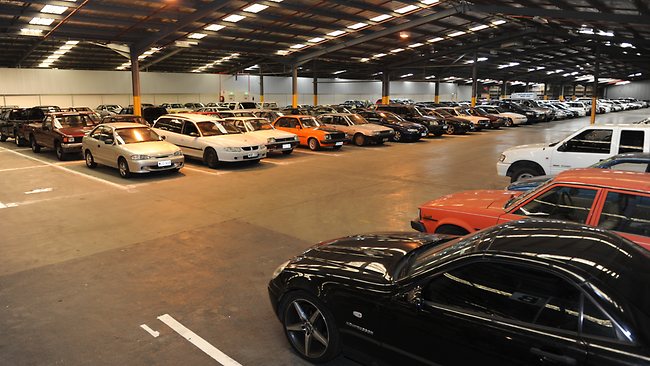 The vehicles at an auction have been there for a long time. These vehicles won't be cleaned or presented well, so it's advised to look closely at the paintwork for damage and scratches beyond the layer of dust and grime. The way the previous owner had used their car should also be kept in mind. Therefore, never get your hopes up before you head in for an inspection. It's rare, but there are some vehicles in auto impound auctions that are in pristine condition. In most cases the vehicles will be sold unregistered without plates, even if they were previously registered.
All vehicles will be sold as is where is without a road worthy certificate. You'll need to organise a tow truck to deliver the vehicle to your home or mechanic after a purchase has been made. Generally you'll find tow trucks on the day of auction outside ready to go once the auction finishes. If none are available, the office running the auction will be able to point you in the right direction to organise delivery.
Auction Day
You'll need to register on the day to receive a bidder number. To get the bidder number they will request your ID card, or a current drivers licence plus contact details. The auctioneer will showcase the vehicles one by one and award each vehicle to the highest bidder. Once bidding on a vehicle has finished, the auctioneer will confirm the bidding number to process the sale. All bids are final, meaning if you're the highest bidder, you're the new owner.
Types of Vehicles
Impounds receive all kinds of vehicles for different reasons. You might even find custom made or farming vehicles among other uncommon vehicles on an impound auction. Therefore, there is no limit to the type of vehicles you will find in an auction.
The best thing about impound auctions is that the vehicles don't have a reserve or expected return value. This means, should you be the winning bidder at only 20 percent of the retail market value, it's all yours!