Abandoned Car Auctions Dubai
June 26th 2019
Dubai Car Auctions
Dubai is a tax haven for those looking to save some extra dollars. In fact, a lot of the world's wealthiest people have properties and other assets in Dubai. The UAE government has introduced some level of taxation, but it is barely effective if you have a decent amount of money in your bank account. However, in such situations it is easy to get fooled. The UAE government makes ends meet by imposing various fines and regulations that can easily send you bankrupt. One wrong move and it's curtains down for your Ferrari dream. At times the fine for breaking a traffic law as high as the cost of another car. This results in people abandoning their old cars and moving on to new ones.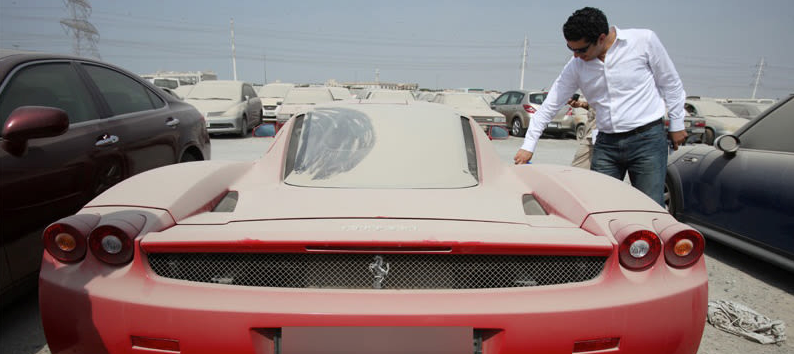 Dubai Abandoned Car Auctions
Abandoned cars are put up for auction where people can place the lowest bid for their desired vehicle. It is usually the Dubai police department who are responsible for the auction. So if you are looking for a cheap luxury vehicle the Dubai auction is for you. Abandoned cars are likely good as new, and you can even export than to another country if you want. This way the Dubai police get rid of old cars to make space for new ones and you get a fantastic gift. It's a win-win situation for everybody.
Auctions in Dubai are managed by some of the most famous auction houses. Each auction house its own way of catering to auctioneers and bidders. One such leading auction house is the Emirates Auction House. Apart from being one of the oldest auction houses in Dubai, Emirates Auction House has a solid reputation and is very well known in the UAE. If you are looking for an internationally recognised broker to deal with, the Dubai auction you should go for is Copart Auctions. This auction house holds auctions in the UK as well as Dubai, so you have plenty of safety. No matter which auction house you pick for your dealings, one thing is for sure: Dubai auctions never disappoint.
The most exciting thing about a Dubai auction is that there are so many exotic cars on the roster. Dubai has tough traffic laws and the fines imposed on car owners are sometimes so high that people abandon the cars and flee so that they do not have to pay the fine. Such a unique case happened back in 2012 when a British national dumped his limited edition Ferrari Enzo in a parking lot. The fines on that car had exceeded $25,000! The owner who had been badly affected by the Dubai debt crisis of 2009-2010 and thought abandonment was the best course of action. The Dubai police can legally auction cars after six months of non payment. They have been able to accumulate millions of dollars thanks to such auctions. After all, the vehicles are usually as good as new, so they often attract high bids.
So if you're looking for a limited edition exotic vehicle, Dubai is your go-to destination!